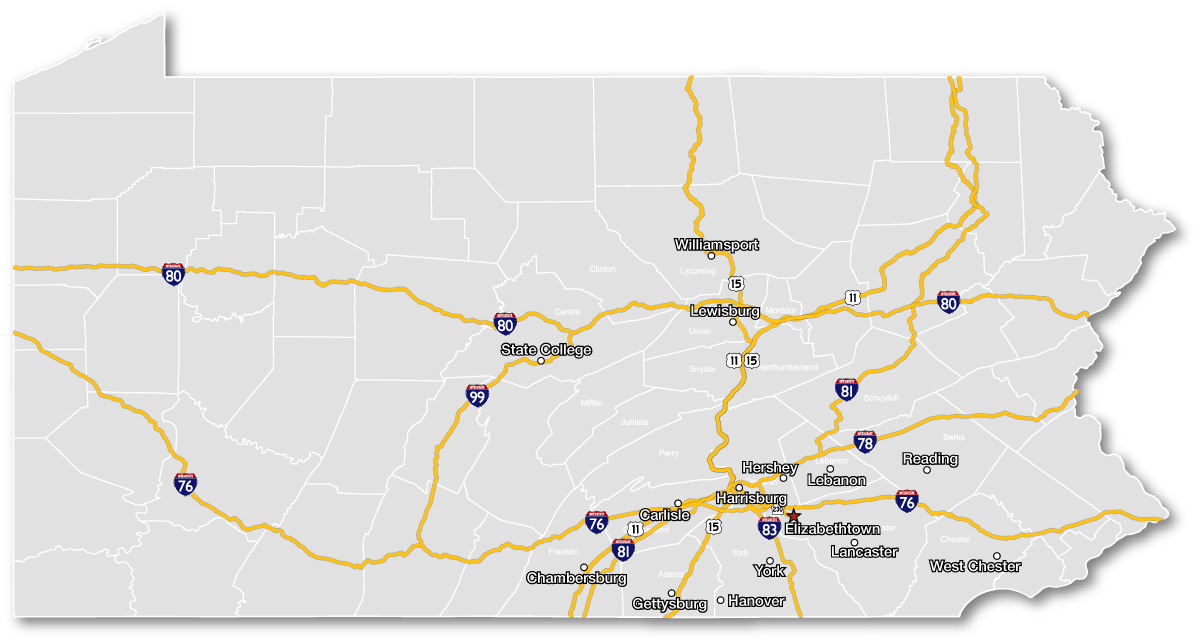 The key to running and maintaining a successful trucking company involves supporting the right market, knowing and investing in your customers' changing needs, creating and following an achievable yet adjustable business plan, and, of course, and possibly the most important, location.
Crowe Transportation began when founder, Charles Crowe, had an opportunity presented to him. In 1968, with one can truck paired with years of trucking experience, Crowe Transportation opened its doors in Elizabethtown, Pennsylvania.
Our Location
Situated at 2388 Market Street in Elizabethtown, Crowe Transportation is within 20 miles of Harrisburg, Lancaster, and York and a two-hour drive to major metropolitan areas like Philadelphia, Baltimore, and Washington DC. Also, our warehousing facilities are within a day's drive of 40% of the US population; our ideal location also allows us easy access to several highways including Interstates 81 and 83, the Pennsylvania Turnpike, Routes 11, 15, 230 and 283, and is just a stone's throw away from Norfolk Southern rail lines.
After more than five decades and beginning as a milk hauling operation that has grown to a food industry-focused company, Crowe Transportation specializes in providing custom transportation and warehousing solutions focused on each client we serve on the East Coast, from Maine to Florida and as far west as Chicago. Because of our ideal location and unique rail experience paired with our comprehensive over-the-road truck solutions, we can tailor solutions for each client we serve.