Flexible Storage Facilities
Positioned in the freight hub of Central Pennsylvania, Crowe Transportation's facilities are conveniently located near Interstates 83, 283 and the Pennsylvania Turnpike. Since being founded in 1968, Crowe Transportation has been dedicated to serving the food industry. We are continually committed to growth and development along with the needs of our clients. This includes adapting our services and facilities to meet the ever-changing rules and regulations associated with being a food carrier and storage provider.
Our warehouse facility carries a superior ASI rating. It also features on-site truck service facilities for any unexpected maintenance needs. In addition, we offer an on-site wash bay, convenient docks, scale access, and comprehensive security solutions. These solutions include a security fence surrounding the entire facility and interior and exterior video surveillance.
Our expandable facilities are poised for continued growth to meet our growing client needs. Our new high-cube storage area is approved and has permits in place to allow expansion to offer additional freezer, conditioned and/or refrigerated capacity.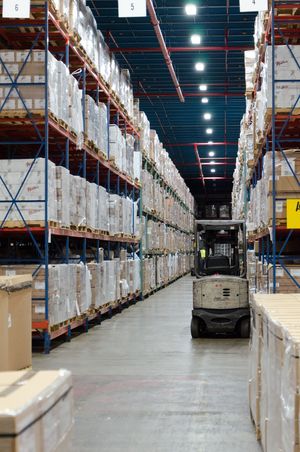 Our humidity and temperature-controlled warehouse offers 290,000 square-feet of conditioned area down to 40 degrees Fahrenheit (4.5® Celsius) as well as a frozen storage area. Our new 70,000 square-foot, high-cube, climate-controlled storage area employs innovative, RFID-compatible technology. It also offers state-of-the-art robotic order picking equipment and inventory management solutions. This allows our customers to directly connect to their inventory data anytime.

Crowe Transportation's food-grade climate-controlled dry goods storage area is optimized to ensure complete separation of all allergen-related products. Our flexible facilities are designed to offer storage solutions that will meet each client's individual needs. They are maintained to the highest standards, ensuring the integrity and safety of all stored goods.
Crowe Transportation offers all of your storage needs whether you require conditioned storage or dry storage. We have the right storage solutions to fit all your needs. Contact us today for more information.