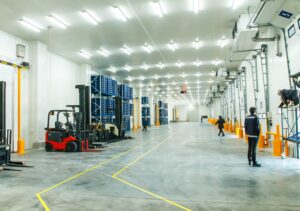 We all know that COVID-19 has caused a significant hiccup in the food industry supply chain. The hiccup has caused an increase in demand for industrial cold storage space.
According to a recent report from CBRE, 95% of food produced or imported to the United States goes through third-party distribution centers before reaching consumers. CBRE concluded that an additional 75 million to 100 million square feet of cold storage space would be needed to meet the demand.
Since many restaurants are not functioning at their capacity, the report indicated a shift to grocery had forced distributors to adjust supply chains.
According to the report, COVID-19 will likely accelerate this need for space, creating long-term impacts for the cold-storage sector.
E-commerce grocery will become more widely adopted as consumer comfort grows with the practice. This will trigger a sharp demand for cold storage capacity.
Public refrigerated warehouse companies will likely consolidate to gain more control of the cold storage footprint.
Since e-commerce is typically fulfilled by local grocery stores, retail footprints will include more storage and fulfillment space, including a greater need for infill temperature-controlled facilities in proximity to consumers.
Restaurants may see a significant shift in dining formats with less dine-in options and more delivery or take-out that would require cold storage capacity. Foodservice companies that supply restaurants may look to second-generation cold storage space as a cost advantage in a limited dining environment.
Automation will increase, prompting higher-density, greater-height, and smaller-footprint buildouts that will be required for around-the-clock operations.
Crowe Transportation will continue to grow and support the demand and needs of clients. We have been treating your supply chain like family since 1968. We are here to help.