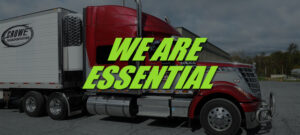 With COVID-19 placing a massive disruption to the supply chain, now, more than ever, the importance of the food trucking industry has certainly not gone unnoticed.
"While we added additional procedures and measures to keep our drivers, staff and customers safe, it has been business as usual," stated Brian Crowe.  "We have and always will continue to adapt to the ever-changing demands and regulations placed on the food industry."
The work of trucking companies has kept the United States running.  Food industry-focused carriers are the reason grocery shelves are stocked and why food storage warehouses are not overcrowded.
Crowe added, "Our industry was deemed essential from the beginning and it is our job to continue what we are doing, delivering our fleets and treating our supply chain like family."
Crowe is committed to providing customized services to meet production and supply chain needs by transporting and storing food grade commodities.
Since March when the pandemic began in our region, Crowe's truck drivers have continued their routes from New England to Florida and as far west as Texas.