Warehouse Operator
Back to Careers | Long-Haul Truck Driver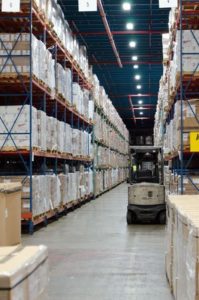 ABOUT US
At Crowe Transportation, we take pride in the quality of our employees.  We are a family-owned, 100% food-focused carrier that has been in operation since 1968 in Elizabethtown, Pennsylvania. 
JOB BRIEF
Warehouse Operators are responsible for assisting with incoming and outgoing product. This position ensures that all product is marked with an accurate pallet identification and the condition of the product prior to moving to the warehouse floor. Warehouse Operators will also perform general warehouse functions such as data entry into the inventory system, application of identification tags, cycle counts, batch control, and warehouse sanitation and cleanup. This position supports customer operations by responding to requests as received.  Operators operate forklifts, reach trucks, and electric pallet jacks.  The Warehouse Operator must follow quality control standards, safety regulations, and standard operational methods and procedures.  They must work within a team environment and follow established goals and procedures.
JOB RESPONSIBILITIES
Must be approachable, showing that our customers are our priority
Must be willing to listen to our customers and provide for their needs
Operate a forklift and assist with incoming and outgoing products, input via RF devices,
and verify accuracy of shipments and condition of product before moving to the warehouse floor
Perform order fulfillment, apply pallet tags, cycle counts, and warehouse sanitation
Perform basic warehouse cleanup to include the warehouse floors, racks, and any product spills
Follow quality control standards, safety regulations, and standard operational procedures
JOB REQUIREMENTS
Education: High school diploma or GED equivalent is required
Experience: 1 year of warehouse receiving and forklift experience is preferred but not required
Must maintain a neat appearance and meet the uniform standards
Must be able to continuously push, pull, lift, and carry up to 50 pounds
Must be able to walk or stand for 5-8 hours
This job requires repetitive tasks which may require repetitive pushing/pulling/lifting/bending/stooping/twisting
May involve heights and overhead work
Requires ability to use RF scanners for inventory control
Requires ability to use computer to complete inventory inquires and data entry processes
Must have communication skills and ability to function effectively as part of a team
Valid driver's license is preferred but not required
JOB TYPE – FULL TIME
If you are interested in applying for any of the current job openings, please contact us at 717-287-6473.
Thank you for your interest in Crowe Transportation. We look forward to meeting you.
Crowe is an equal opportunity employer.